Life keeps me running. I seem to always be "about to learn" to slow down and take in the moments and then off I go on another task... A week ago I returned from enjoying several days away from the family, visiting relatives and watching my daughter, Bek, graduate. This morning I have some time... I think. I could be washing walls and door jams in preparation of painting my bedroom. I could get some more laundry done. I have an ever present stack of filing staring at me from my desk top. But, I'll take some time to share with my friends and family about my trip instead... or it might not get done!
It started with a lovely day at the spa. Kind of. I woke up early and drove to the airport, leaving behind 7 children (it seems like I shouldn't be calling them that anymore... they are getting so much older now... what do you call your children when they grow up?) and to everyone else on the airplane it was just another flight. For me, it was spa day. I sat back, enjoyed a book I'd been trying to get to, took in several deep breaths and sighed. It was very nice to not be responsible for anyone besides myself.
The next day, Rebekah and I stared out the window, watching the rain pour down. Now, Rebekah loves the rain. She always wants to go out and play in the puddles and go for long walks in the downpour. Me? I am doing good when I take a shower and avoid getting water splashed on my face! It's my brothers' fault. Whenever we were in a pool swimming... whenever there was a squirt gun... guess who got it? Me. Right in the face. I don't like the rain. But, Rebekah wanted to ride the city bus around, take me to the mall, and show me around. The weather forecast was not very promising. So, I wore my brother's rain coat and decided to live life a little... and out in the rain we went. We ran. I started singing some such goofy song about singing in the rain and we were laughing and just as we neared the bus stop, we saw it. The bus. It just zoomed on by without us. Now, it was POURING. My feet were thoroughly drenched. My capri jeans were dripping, so what did I have to lose? We kept laughing and splashing and it was fun.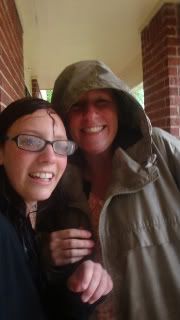 And wouldn't you know it... as soon as our shoes and clothes were tumbling in the dryer and we were changed the sun came out!!! We got ready once more and this time we made it to the bus stop on time. I love to goof off and laugh, but sometimes my children don't get to share that with me because I have so much to do and get too busy. This was Bek's and my day to just joke and laugh. We went into the mall and she wanted to get into one of those photo booths with me. I protested, saying, "Bek, I did not take the time to look pretty today..." And glancing at her, I continued, "and neither did you!" So, we decided to pile our hair on top of our heads and take goofy pictures, since we knew they wouldn't be beautiful pictures...
The next day I spent several wonderful hours getting to know my nieces, Amanda and Jenny and their children. It was fun to see little Maggie warm up to me and giggle. Zachary tried to fool me, pretending to not want much attention, but I could tell he likes the lovin'. Looking into Amanda's eyes I can see our family resemblance... I see her eyes and think, "I've seen those eyes before!" They are a lot like mine. I hope she hasn't minded too much when she's been told that she looks a little like her Aunt Betty. I am proud of both of those girls... waking up each day to take care of their little ones. I particularly enjoyed holding baby Abigale and giving Jenny a break. I had to take her outside to get her away from her momma, but once I did, she could feel my mother love and relaxed with me. So, we settled in for a bottle and a nap and Jenny got to enjoy an hour to herself. Thanks Amanda and Jenny, for the hospitality - it's great being family!
My mom and her love, Mike, drove in that day, too. It was wonderful to see how much Mike cares for my mom and the fun they have together. I couldn't possibly repeat the things that we laughed about... but it was sure a great time!!!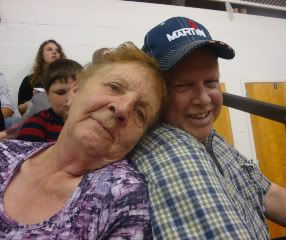 Rebekah's graduation was nice. Terri, my brother Ron's wife, and I sat and tried to calculate how many hours I would spend in graduations. Well, you take 9 children... high school graduations take a couple hours... and then guess how many of those nine would be likely to graduate from college and add on hours for those graduations... I guess we passed the time supposing and calculating. Then my dear girl graduated.