Victor's 4th grade class joined another 4th grade class and went on an overnight field trip to Sutter's Fort. Joseph had the same opportunity last year and he and I had a fabulous time. This year, great memories were made once more.
We had to wear "authentic" time period clothing. I made my dress, the teacher's dresses, a cook's dress and Max's mom, Jill's dress. I made Victor's short pants. I couldn't pass up the opportunity to see a boy in knickers, now could I?
We met at the school at 6:30am. While the children lined up and boarded the school bus, parents divided up and carpooled. After a brief stop at Starbucks, we were on our way.
Parents arrived at the fort first and we began preparing stations for the children. I was a basket weaver and put out metal tubs and filled them with water, for soaking reeds to make baskets with. Other stations that the children had were: candle making, trapping, rope making, carpentry, kitchen and baking, stage coach, weaving and blacksmith. We were all dressed in time period clothes and the hustle and bustle did in fact feel like we were transported to another time.
The bell rang to announce the children's arrival. They had taken a bus to a local stop and boarded horse drawn carriages for their grand arrival at the fort. Each child had taken the name of a pioneer settler who had in fact traveled from the east to the west and stayed at Sutter's Fort. They had prepared by studying their character and preparing speeches to give. So, parents gathered out front of the fort to welcome our travelers.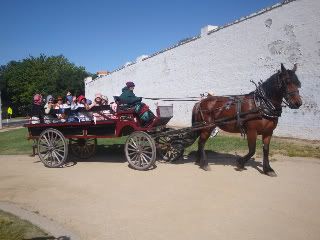 A class board was made by a parent who had previously taken photos of the children when they dressed up for a school presentation. Their historic names were used on the board and this was displayed in the front of the entrance to the fort for visitors to see.
After some group photos children went inside and began their activities at their stations. There was a half hour lunch and "mail call". Parents were asked to secretly write a letter to each of these settlers, as if they were related in some way and turn it in at the school. I wrote a love note to Victor, as if I were a girl friend that he'd left behind. He opened his mail, read it and quite embarrassedly stuck it into his cloth sack!
Children then continued to visit each station and as the afternoon wore on, they were a bit quieter and subdued... they were getting tired. Before we knew it, it was time to wrap up the stations and have dinner. Men had been cooking chickens on a spit over an outdoor fire, then they cooked the tri-tip. Dinner was tasty, but all of my food was cold. Guests were invited to eat first, then children and volunteer parents.
A spraying hose began to wet the dusty ground and I could hardly sit still. I knew what was next!! A couple of musicians, also in time period clothing began calling out dances with their not so time period microphones. The children loved this. I loved it. I could imagine long ago when there were no televisions and game systems and families grabbed violins and guitars and had some great times with music and dancing. Nothing beats it.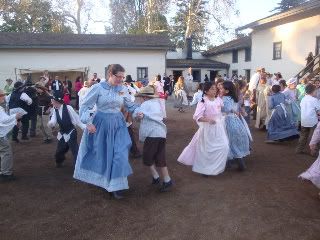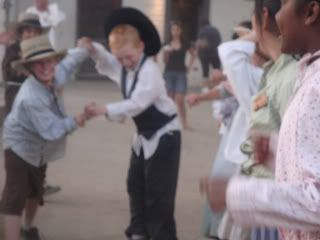 After the dancing, children gathered for singing and then as the sun set and the sky darkened, an Indian lady unraveled quite a fascinating bedtime tale. Our bags of bedding were put out on the grounds and our modern air mattresses were inflated. We snuggled down under the stars for a good night's sleep... right? Well, not exactly. Just as I was about to drift off to sleep, Victor and Max were woken for night watch. Children had been divided up into groups to walk the inside perimeter of the fort, keeping us settlers safe. They had wooden rifles (that do NOT work, they are inactive toys). Well, Victor and Max did not want to wake up and it appeared that when we did get Victor up, he began to sleepwalk. He was drifting around the middle of the fort, aimlessly. We called him back and the men in charge of night walk helped him from there. He insists that he was awake. Sure thing. I don't recall every falling asleep totally. In the morning we had to thoroughly clean up and pack up.
After I got home, showered and thought I'd become a modern day settler (settling into my comfy bed!), I noticed a package had arrive for me! It was my mother's day gift!! I am now pouring over 4 Chonda Pierce books and have acquired 5 of her dvds. Thank God for modern day books and videos!