This past week had so many treasures in it...
For months I've been planning on taking Zoey to get her nails done and we finally did it! You know that your words mean something, right? Well, when Zoey was born I held her and said, "You're gonna be my little shopping buddy!" She heard me. She has reminded me several times that I said that to her. She is all girl. Those who know me know that I am NOT a high maintenance gal. I go for comfort and time. Life is all about what to do next... not about looking in a mirror. So, Zoey did not get this from me! She loves to work on hair and makeup. When she was 8 she would go through department stores and point out which outfits would look good with different purses, handbags and shoes. I knew. This is her, through and through. She made me get a pedicure while she got her nails done. Totally forced me. My arm was twisted behind my back. Well... Anyway, nothing says pretty to me like a french manicure on my toesies!!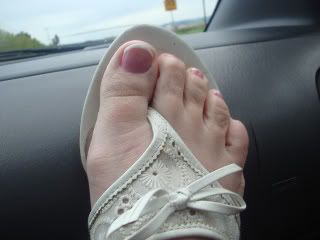 Sooo many choices for Zoey to make:
And if a french manicure on the toes says pretty... peace at church says beautiful!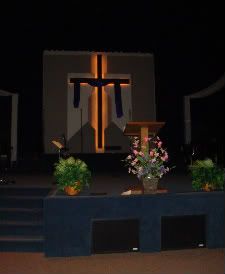 Good Friday was a beautiful day. In the morning after I'd served the children breakfast, we gathered around the living room and I read several chapters from Matthew. There were some pauses here and there, as we took in what was being read and pondered... how would it have felt to deny being a friend of Jesus... how would it have felt to be one of the soldiers who at one time was mocking and participating in the crucifixion and another moment in time realizes, "Surely this is the Son of God"!
Then we went straight to church. The sanctuary was dimly lit. All was quiet. What a great feeling to walk in with most of the children... Stephen went to the balcony to pray... Zoey and Nathan went straight to the front steps, wanted to get as close to the cross as possible... Victor stood at the floor, right in the center... Joseph sat quietly in a pew... Each one of them stayed quiet and prayed on their own. We sat for about 10 minutes, then I motioned for them to leave with me. As we walked back to the car I was asked, "Is that all we came to church for?" Yep. That was it. To sit and ponder the cross and pray. To thank God for Jesus. Some day they will look back and they will remember. They will appreciate going to church to "just pray".
That evening our church choir gathered and rehearsed for our Good Friday Service. We sang a few songs. Stephen had been asked by Karla, our choir director and the pastor's wife, if he'd take some photos with her camera. After agreeing and following through, he stayed seated in that center, front row, next to the pastor. Zoey had joined him, too. I confess, I was singing with the choir and silently praying, "God, please don't let my teens start texting in front of the pastor during the service!"
As it worked out, we broke into prayer groups. Who did Stephen and Zoey gather with to pray? The pastor and his wife! I love it. Here is a church of 3,000. It's not that the pastor and his wife are unreachable, but in a church that size, they don't get to talk to everybody. And they shared the evening with my son and daughter. I have to share a bit of the humor now. See, Zoey isn't just a girly-girl... she is as honest and straight shooting as it comes... and she doesn't change or "play a part" for anyone... she simply is who she is. So, the pastor had passed her, asking, "Are you here to praise God and pray?" And she looked up at him, replying, "I sure am, how about you?" Lol. The pastor chuckled and said yes, that was what he was here for.
I will try to post the video of the choir singing "Oh, Sacred Head Now Wounded", but I make no promises... I am technologically challenged at best... and I haven't viewed it to see how it turned out yet. But, it was amazing.
What a beautiful start to our family weekend.
Love,
Betty