We've heard it many times. Our words are powerful. As mentioned in a previous post, while having a great time skating and hearing a favorite "teen" song begin to play, my face lit up and I announced to Scott and his son, Chris, "I told the kids that for Mother's Day this year I want to get gangster clothes, straighten my hair and do a video lip sincing to this song!" (Ima Be) Now, Chris laughed and said I should, that it would be "hecka funny". And Scott had an odd look on his face. He loves my curly hair, but I don't think it was the hair part that bothered him. I didn't know at the time if it was the gangster clothes or lip sincing to such a song as he'd never really listened to...
All I know now is, he went out and bought me a lovely, feminine spring outfit!!! I didn't ask about gangster clothes...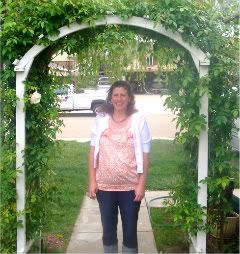 Yesterday while out running errands and waiting for Stephen to meet with his boss, I stopped in at a thrift store and found these: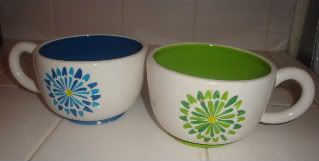 Aren't they so happy looking? Shasta and Julie claimed them, so I am still looking for that special coffee cup for me. But, since it's a bit dreary with rain and chilly temps, I think I'll wash out Julie's cup from this morning and use it. It'll be just the thing to combat the dismal weather. Now, to find just the right lap blanket and a good book...