Yesterday was a fun day off, spent with this little boy. He turns 3 today. It has been so much fun this year because he is such a smart little guy and remembers things and talks about them. He knows me! It's great to see his eyes light up and hear him call out, "Betty! Lemme show you somefin"
He came over to spend a few hours with me while his mom went to the hospital to see his little sister (baby Chloe, who is now over 3 pounds!). The boys were off to school and it hit me... I have a little boy here and no one else to entertain him except myself!! He was such a good little guy, though. It started out like this: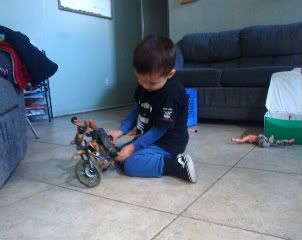 He really liked the soldiers, their uniforms and boots, the motorcycle and all. Then, after a bit of playing it looked like this:
There's some unwritten rule... you don't get frustrated over messes that grandkids make!
We took out some supplies and made some muffins together... which held his attention just fine!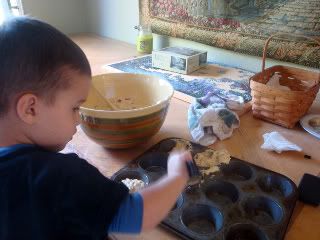 This afternoon I will head over to Chuck E Cheese, thankful to eat my own lunch prior... and deliver his birthday gift... Alphie, the electronic teaching robot. Then I will find out if I am more excited about it than he is!! You know, there's just nothing else like a 3 year old boy!