I'm loving the new look for my blog. But, honestly, I still find it so funny to have a tab for "Meal Time". Because it's so "not me"! I guess the best thing about having a tab like this is to give hope to other ladies out there who don't like to cook...
You wont click on this tab and find me twirling a rolling pin... happily dusting pans with flour... excited about cookbooks. My goal in the kitchen is to get out as soon as possible, but simultaneously feed my family. They want food every day. For some reason, they look to me to get in the kitchen and make the meals happen!
Well... what I do like is when I find something easy to do that tastes really great. And this week I had success with that!
Walking through the produce area, I randomly picked up an eggplant. (It's like a purple squash, but softer than a squash and it's a vegetable.) I remembered years ago when our piano teacher's daughter fixed eggplant parmesan. Now, I like a good chicken parmesan. Eggplant is cheaper than chicken. So, I thought I would take a stab at it. I present to you... Eggplant Parmesan!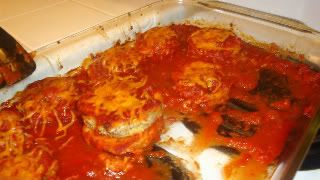 I simply googled for a recipe and found one at Allrecipes.com that did not require frying. It took very little time and turned out tasty!! Knowing that the boys would be much more excited about macaroni and cheese, I added that as a side.
Here is a run down of what I did:
Peeled the eggplant, cutting of the very ends
Sliced about 1/4 inch thick
Dipped in beaten eggs (2)
Dipped in seasoned bread crumbs
Baked 5 minutes each side
Put spaghetti sauce into bottom of casserole
Put slices of eggplant on top
Spooned more sauce on top of that
Skipped the cheese...
Put some more slices on top
Spooned more sauce to cover tops
Sprinkled cheese on top
Baked at 350 for about 30 min.
We all enjoyed it, with the exception of one boy. Two boys asked for seconds. That wasn't just for the macaroni and cheese, either.