We surprised my dad with a trip to the raceway to watch the dragstrip racing. I had never been before, but this is something my dad watches as often as he can on tv. He remembers back in about 1958 when the cars broke 150 mph.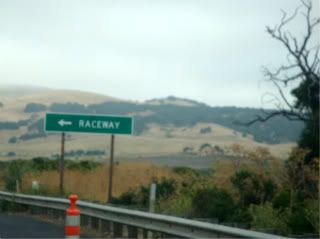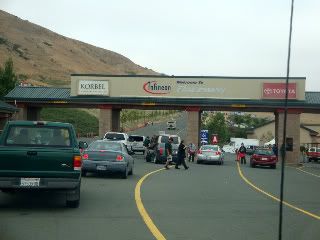 When we arrived and began looking around, my dad enjoyed checking out this car...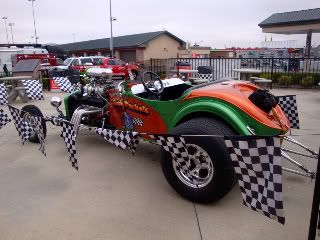 But, the bigger attraction was the pit. One of the top racers that my dad watches is John Force. He has a daughter, Ashley Force, who races, too. I'd heard all about them the previous day, so it wasn't a surprise when dad wanted to hang out at their pits.
Here's dad admiring Ashley Force's pit.
Here's John Force's pit.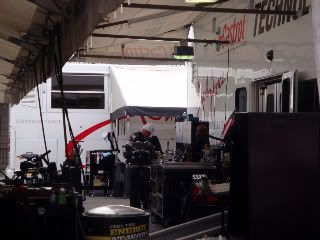 Today dad says that his favorite part of the day was getting to see, hear and smell John Force's car get fired up in the pit. Let me tell you, the experience did involve all of the senses!!! It was my first introduction to "nitro", which is some such substance that is used instead of gasoline. The first video is him getting into the car, the second is him starting it up. It's not high time entertainment, but it was quite a time!
Before we sat down to watch the races, we visited other pits. Here he is in a funny car that Toyota had out.
Here is Antron Brown's dragster.
The most expensive seats were the stadium seats... but they were farthest from the actual starting line and race!
There are a few classes of vehicles that race... the sportsman cars, the dragsters and the funny cars.
To begin, when the track is prepared, the cars come out, two at a time and burn out... it has something to do with warming up the tires... makes a bit of noise and smoke...
So, after they burn out and back up they inch forward to the invisible starting line. For dragsters, this is a time where their back tires are feverously brushed off. For the funny cars, this is where the top is raised and something taken out of the engine area that is put in to stop it from going fast during the burn out...
Here's a look at the stadium from our seats.
Here is a sportsman stock car.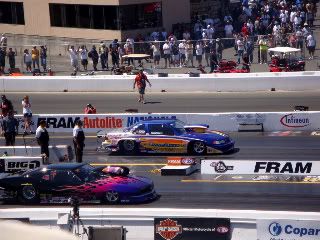 Here is a dragster.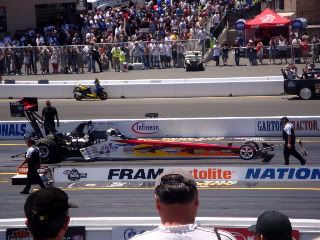 Here is a video of two dragsters racing... one is by a man who has been number one for many years. He is Mr. Schumacher in the US Army dragster.
Now, here's a tip. You should not eat peanut butter cups during races. No, no, no. Trust me. The taste of nitro-burnt rubber-chocolate and peanut butter do NOT mix! Blech!
Whenever there was an oil spill or anything flew off a tire or an engine, the races came to a halt and clean up crews were on the scene. I learned that there is this thing called a gasket. It is between the head and the engine. There's a spark plug in the head and there are pistons. I am pretty sure the pistons are mobile! So, sometimes a piston might make a hole in the gasket and oil and "stuff" go out all over the place. Stick with me, here, because it gets exciting! Gaskets help the engine not blow up when the spark ignites the fuel! And I hear that sometimes gaskets blow up for other reasons. And so something like this must have happened because some "things" blew off a dragster and out went the clean up crew. A talented motocycle stunt rider came out and entertained the crowd while we waited for the clean up to finish. I found the following announcement to be more humorous than the stunt rider: "If parts (ones that blow off the race-car) land facing the same direction that they were in to begin with (at the start of the race) then you are not disqualified." Wow, I don't know who came up with that rule, but I bet the driver was relieved....
I would now like to say: SILLY BOYS....RACING'S FOR GIRLS!
Here's a video of a lady racecar driver simply smoking out the opponent! She is sponsored by In-N-Out.
And here's a video of Ashley Force (she's a girl, too!) smoking her opponent!
Here are some miscellaneous photos... This is one of John Farce's older cars.
These were dragsters in the nostalgic tent.
And here is John Force's car getting towed out to the starting line-up area.
I hope you have enjoyed hearing about my day at the raceway!