My dad arrived this past Thursday to spend a couple of weeks with us. He took Amtrak and enjoyed every minute of that, then went out to see Scott's boat and loved that... I fed him dinner last night and he really liked that, too... So, we're off to a good start!
Yesterday we did some running around together and then just hung out around the house... with Starburst, our Sun Conure.
Starburst is getting very spoiled right now.
Today we decided to head out in light winds onto the Delta and try a few spots for fishing. Our first stop, however, was the bait shop.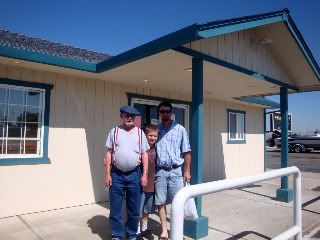 Next, we braved the whitecaps and found somewhere to anchor down. Dad got some grass shrimp and put bait on his hook.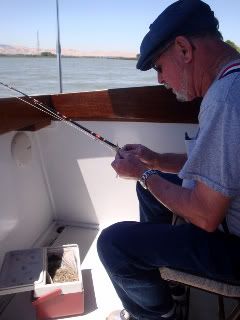 It wasn't long and he was reeling his line in with anticipation.... and found that he had caught a clam!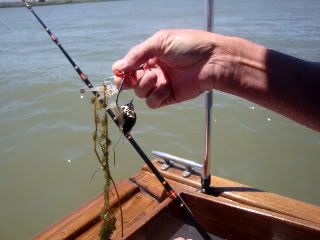 That was a bit better, depending on how you look at it, than Scott's catch... a log shark:
Here he is, enjoying the relaxing experience...
I was there relaxing, too, which may surprise some of you, since it is hard for me to sit still and just "do nothing"... I actually fell asleep!
My dad got some big hits... his bait was stolen off the hooks a couple of times. What fun it was to see him jump up and jerk his pole up! But, no fish. Cody noticed that Scott's pole was taking a hit and when it was reeled in, we had snagged this cute striped bass. He is happily swimming away somewhere out there, now.
A family friend at the Doc told my dad that I am a regular mermaid now... and my dad said, "I always thought she was an angel." It might sound cheesy to you, but, how sweet!!!!
Tomorrow we will go to church together and in the afternoon we have another boating trip planned... out to Bethel Island to visit a 1919 boat. So, stay tuned!
Betty Marie