After showing my dad photos of Joseph and Victor's trips to Sutter's Fort, he said that he'd like to go there. The times that I went, I was a worker, teaching basket weaving for the school's field trip. Since I posted about that previously, I wont write too much more about it, except that it was really nice to take my time looking in each of the rooms. There were new things to learn. For example, the wagons used by the parties that traveled out in the early 1800's... the ones that were the first to come across... were narrow and had no seats. I always thought they were like the wagons of Little House on the Prairie and that people rode. Nope. The wagon parties that first came out walked the entire way. The wagons were narrow and held all the supplies for their trades and for food and clothing, hunting and defense. A docent who volunteers at this state park shared the name and story of one lady who had a toddler on her hip and was pregnant and took the trip, walking the entire time.
My dad told each worker that was there that this was much better than visiting the Alamo!
This is the only original structure that has lasted since early 1800. The wood flooring in it is original and nearly all artifacts are original. The walls and rooms that border the fort were restored and rebuilt where needed according to original plans.
Just had to take a picture of this cradle. My dad made a small one of these that Joseph slept in.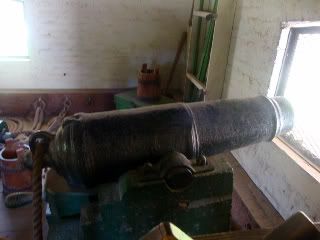 Each of the four corners had a tower with three canons for each direction. This corner tower had the jail in the bottom of it.
Here we sat for a musket demonstration.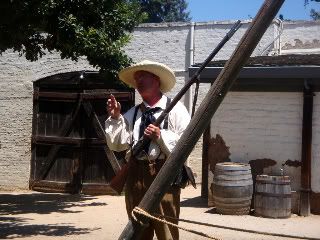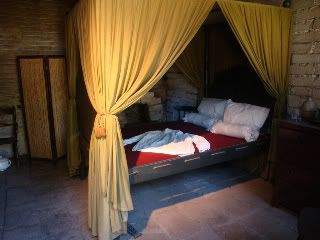 John Sutter's room.
Next we went down the road a couple miles and visited the Train Museum. There was SO much history. I enjoyed learning about the first train route from Sacramento area heading East through the Sierra Nevadas and connecting with the Union Pacific.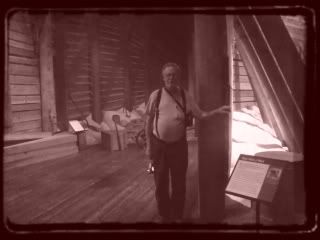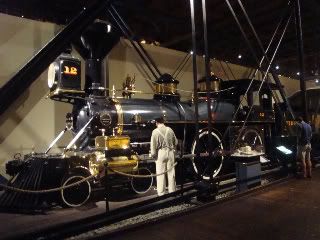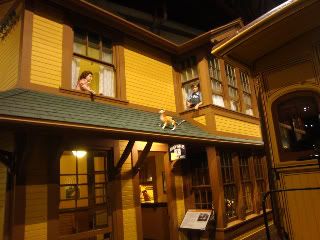 This picture reminded me of Disneyland... all the displays here were simply beautiful.
This part of town had old time wooden planks for walkways that were delightful! The shops were fun. We ran out of time and talked about coming back so that we could enjoy the stores, too.