Christmas time can be a wonderful time to look back and remember special things that have stood out over the years. One of the greatest gifts I received was from my Grandma Betty.
Grandma Betty was great at sewing. As my mom grew up, Grandma would go into the store to see what the fashions were, then go home to make my mom's clothes herself. She could check out some crocheted item... really inspect it... then go home and make one for herself. Her ingenuity was such a blessing to me, personally.
(Here is Grandma Betty with my sister, Lisa, and me. This was the last time I spent with Grandma... I had flown up to visit her at Thanksgiving of my sophomore year of college. She passed on in January, shortly after.)
Sometime in the fall of my 6th year, my favorite doll disappeared. I looked and looked for it. I remember searching all around outside, afraid that some animal had gotten it. At Christmas I unwrapped not just my doll, but an entire wardrobe of clothes to go with her! Years later, Grandma Betty did a similar thing. Only she took my mother's doll, which at that time was over 30 years old, made several outfits for it and blessed me with it. I LOVED her. (I still do!) It was so extra special because I had played with her every time I visited Grandma Betty's house. But, I wasn't old enough to keep her for myself until my 10th Christmas. Truly one of my favorite holiday memories is receiving this beautiful doll.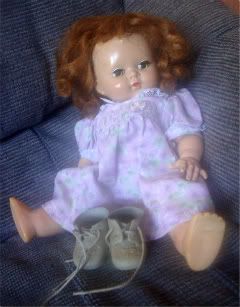 Her name is Cindy. She still has her rubber shoes with laces! She was originally a boy doll that was bought for my mom when she was 3 or 4 years old. The next year my mom wanted a girl doll, but money was tight. So, grandma got a wig put on and made her into a girl. She was well taken care of over the years and she graces the earliest memories that I have of visiting Grandma Betty.
Whenever I am asked what possession I would grab if I had to flee my home because of a fire, I think of Cindy. She lays inside my drawer.
Deciding to follow in Grandma Betty's footsteps was just so natural. When my own little girl, Shasta, was about 4 one of her favorite dolls "disappeared". In the early hours of morning, before anyone was awake, I worked on sewing a Christmas dress for her. Several years later I bought a doll from a craft store and made it an entire wardrobe for Julie. In years to come, I will probably find another doll... or two... or three... depending on how many granddaughters I have over the years and do the same for them... for Christmas.
And a new wish of mine is that one of my daughters or granddaughters will catch on and carry the torch for generations to come.