I don't know that if I sat here today I could come up with a more creative title... Yesterday was high time fun and today I am exhausted! Shasta and Bek arrived in the morning. We hurried Shasta to the back room because I hadn't taken the party items to my van yet and we didn't want her peeking around! After a couple quick trips to load up, Cody called out, "Can we let her out, yet?" LOL
After a bite of breakfast and saying goodbye to Scott and the boys (they were headed out on the boat for the day!), Rebekah got restless and we said our good-byes to Shasta, who was waiting for her friend, Glenda, to pick her up for a hair appointment. Bek and I had some laughs at Baby'sRUs and picked up the song cd, the cake and some toffee coffee... I forget what all we were doing to laugh so much, but we had some fun. Then we stopped by the house once more for some forgotten items and headed to Heidi's to set up for the shower. Heidi is Chris's mom. Chris is Shasta's fiancee. He is also daddy of the baby. The baby. I have banned myself from any and all baby sections of stores. That's that. LOL
We had lots of blue "Baby Boy" balloons and most of them popped outside in the heat. We hung decorations and set up and were so thankful that Bek was with us... there was plenty to do and it all came together! It was lovely to meet Heidi's parents. I was super extra blessed by Aunt Debbie, who drove the baby's Great Great Grandma, Great Grandma Cathy and my sweet Julie from Santa Cruz to our baby shower!!! Trust me on this one... I was SO excited when I got the news that they were driving up! And what a blessing Julie was. She had been working and making purchases to put together a large gift basket for her nephew and it was fabulous. She brought a baby washcloth lined basket of bread cubes and the most delicious hot artichoke dip, too.
In between snacking and visiting we played a couple of baby shower games and I think the one that went over the best was dividing up into small teams with onesies to decorate. Competition was fierce. Just kidding. I looked around the room to think of how to divide up guests because if you tell folks to divide up themselves and some of them don't know others... well, sometimes it feels awkward. So, I looked over and said something like, "I know! Let's have the great-grandma's team up together!" And those dear ladies let me have it, I tell you! They figured I was singling them out as elderly, but I put them together because I know that they didn't know each other and each one is lovely and special. So, they cooperated and each group had a terrific time. When I went to take pictures of the Great-Grandmothers one of them called out, "This is NOT the Senior Center!" LOL I love each one!
Soon we were watching Shasta open gifts and pass them around!
My three daughters!
The 4 generations... soon to be 5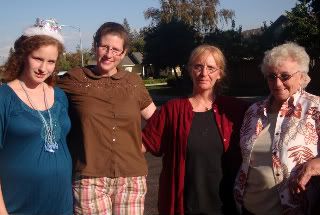 And one last photo... the cake that I could not watch being cut... And a special thank you to those who could not be here, but sent lovely thoughts, gifts and love our way. We missed you!